Candle Making at Epicurean Hotel with Tipsy Candle Company
Upon entering the Epicurean Hotel lobby, one sight that will catch your eye is the unique candles housed inside wine bottles. These hand-poured candles featured inside the Epicurean Hotel and Spa Evangeline are the work of Tipsy Candle Company, based out of Tampa, FL. What makes this story unique? The Tipsy Candles at the Epicurean Hotel are uniquely crafted from recycled wine bottles from Élevage Restaurant and donated wine bottles from our "big daddy",Bern's Steak House.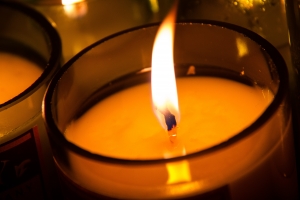 Autumn calls for candle-lit nights, something warm and cozy. If you're looking for something fun to do this "fall" season, candle making is fun and an activity you can share with your friends or family. Candle making is a craft as old as civilization itself, yet after so many millennia and technological advances, we still love the light, warmth, and beauty of a lit candle.
Join us inside the Epicurean Hotel for a special night with wine, food and candle making on Friday, October 7, from 7-9 pm. Each guest will have the opportunity to make their own Tipsy soy candle to take home just in time to celebrate autumn.
Seats are limited and expected to sell out! Tickets are $60 and include all your candle supplies, food and wine. To purchase your tickets, visit www.EpicureanTheatre.com.