Interview at Epicurean Hotel
Tipsy Candle Company: Handmade Wine Bottle Candles
Posted On January 16th, 2017 by Epicurean Hoel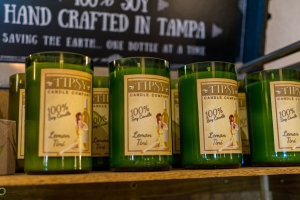 Upon entering the Epicurean Hotel lobby and Spa Evangeline, one of the first things that will catch your eye is the collection of hand-poured candles inside wine bottles. Based out of Tampa, FL, Tipsy Candle Company takes recycled wine bottles from Élevage Restaurant and donated wine bottles from our big daddy, Bern's Steak House and up cycles them into magnificently scented soy candles.
There's no doubt that Steve Neher, the CEO and Owner of Tipsy Candle Company and his team "burn the candle at both ends," creating 100% soy candles from farms across the United States. Tipsy Candles also believes in saving the earth … one bottle at a time. All candles are environmentally sensitive, non-toxic, burn clean and are made with all-natural soy made in the USA.
We sat down with Steven Neher and asked him some of your "burning" questions.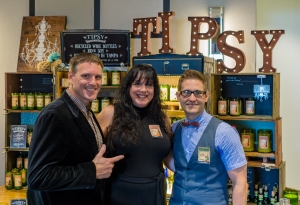 Epicurean: How didTipsy Candle Company evolve?
Steven: Tipsy Candle Company (TCC) was founded with an inspiration to recycle wine bottles and to make holiday gifts for the family. Our family and friends loved them so much, we started selling them in boutique stores and now we love being part of the Epicurean experience!
Epicurean: When did you start making your candles?

Steven: I established Tipsy Candle Company about a year before the Epicurean picked me up as a preferred vendor.
Epicurean: What other products do you make/supply to the Epicurean Hotel property?

Steven: We produce the Epicurean-branded candles with various scents for the seasons and that mimic different wines. Plus the vintage candle brand that have original wine labels and unique scents that relate to the seasons. During holiday seasons, we stock additional retail items. For example, right now we have a Gasparilla-themed candle called the Gasparilla Rum Runner in stock that's incredible.
Epicurean: What specific holiday items do you make?

Steven: During the holiday season, we add additional retail products to the lineup. Items would include wine-bottle-bottom ornaments and pressed glass bottles made into cheese trays with holiday-themed cheese spreaders. We do the majority of our business during the holiday season, by adding these products to our already successful candle lines.
Epicurean: How did you become a preferred vendor with the Epicurean?

Steven: A couple years ago I found myself at the Epicurean, and thought that their products would do fantastic as a retail item in the lobby and at the spa. I tracked down General Manager, Tom Haines, and pitched him my candle idea of an Epicurean-branded candle. He loved the idea and they began flying off the shelves. Seeing how great these pieces were selling,we then collaborated with Bern's Steak House and began filling their recycled, vintage, wine bottles and selling those at Epicurean as well.
Epicurean: What differentiates you from other people making similar products?

Steven: My biggest competition is other candle companies, but I'm the only local company that produces and utilizes wine bottles as the container for candles, making it particularly unique. Using bottles from the world renowned Bern's Steak House means that every candle is completely exclusive. It has a bit of nostalgia, and a wealth of history tied to it. By adding Epicurean's very own label on the bottles, these items are seriously one-of-a-kind.
Epicurean: How do you see the relationship between your company and the Epicurean continuing in the future?

Steven: The relationship between companies has already begun to take a new and interesting turn. We've already held two classes in the Epicurean Theatre, where we teach participants how to make their own candle. The first two classes were extremely successful, and sold out quickly. A third class has been scheduled for Saturday, February 11, for Valentine's Day.