Top Ten Gifts Crafted in Tampa Bay
A Sampling of the Area's Best Brewed, Poured, Designed and Crafted Stocking Stuffers...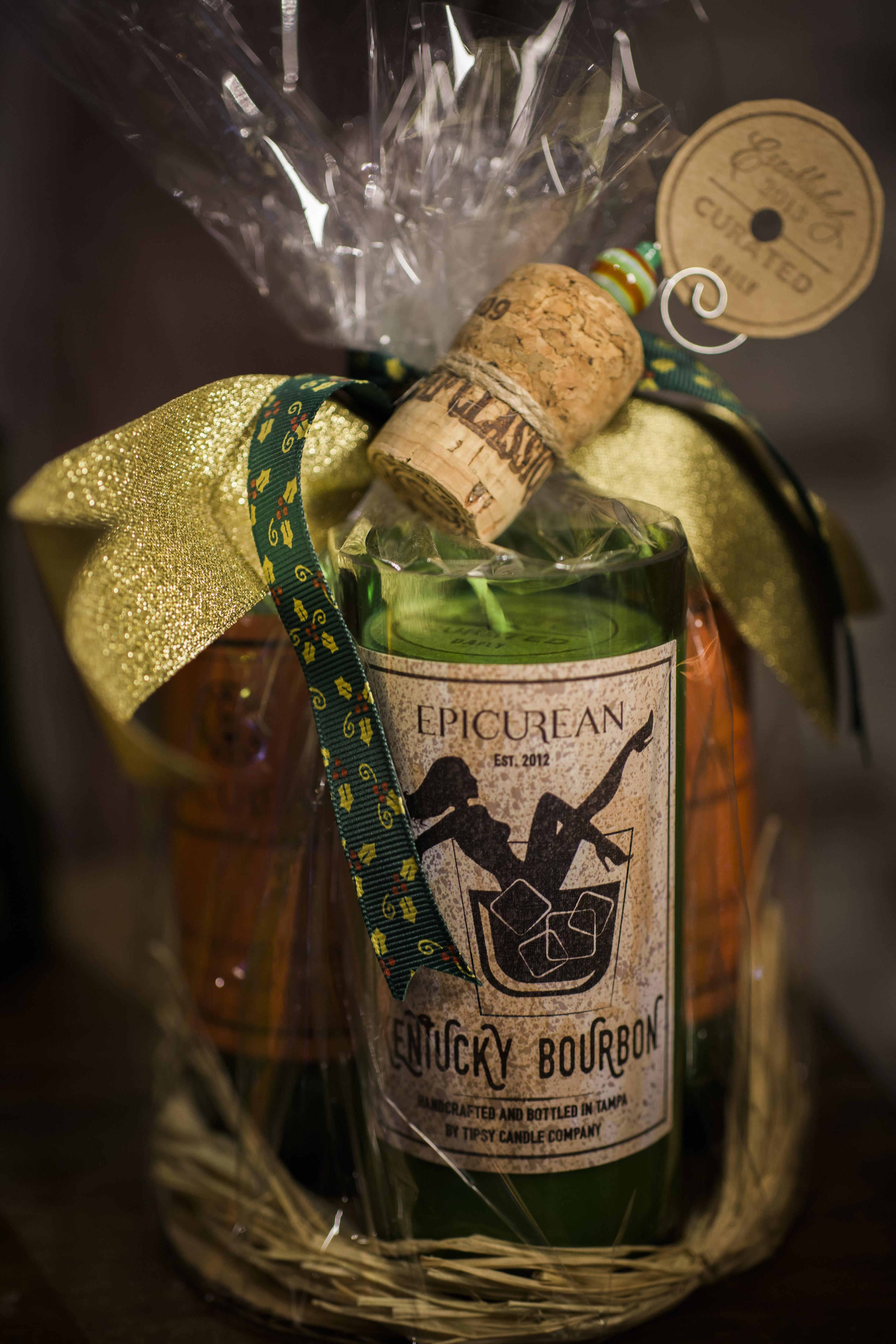 TAMPA (December 2015) – This may just be the best year for shopping in Tampa Bay for all things great and crafted. Just in the last two months, the area has seen the grand opening of one major outlet mall and the launch of Restoration Hardware's 60,000-square-foot gallery, one of the largest in the country.
"Tampa Bay's shopping options are as abundant and delightful as our cultural and culinary attractions, said Patrick Harrison. "We have tony shops in Hyde Park Village, vintage stores in Ybor City and Seminole Heights, neighborhood and family-owned boutiques, as well as several museum shops featuring unique artisanal products."
It is this passion for creativity and craftsmanship that inspired us to highlight a few of the many authentic gift options available for your stocking in Tampa Bay:
Epicurean Tipsy Candle
Tampa Bay-based Tipsy Candles repurposes wine bottles to create fragrant candles with hand-poured soy wax through an environmentally sensitive and nontoxic process. The company has crafted candles with bottles consumed at the stylish hotel – an invitation to feel less guilty about asking for more of the holiday cabernet. $30 Available at the Epicurean Hotel, http://epicureanhotel.com/, www.TipsyCandleCompany.com
Cigar Box Purse
Cigar City fashions are all the rage almost 130 years after cigars were first hand rolled in Tampa. Local designers have found creative uses for vintage cigar boxes, including this bamboo handle purse from designer Monica Barbie. $80. Ybor City Information Center, 1600 East 8th Avenue, Tampa, FL 33605 (813) 241-8838.
Oxford Exchange edition of "To Kill a Mockingbird"
To celebrate Harper Lee's classic novel, Oxford Exchange has created its own deluxe, leather-bound collectible edition of the book – the third in its OE Library collection. Best read in the luxurious comforts of OE itself, alongside a Buddy Brew macchiato served from the bar. $75.
Sangria Pitcher
Columbia Restaurant, the oldest restaurant in Florida and the largest Spanish restaurant in the world, anchors Tampa Bay's historic Ybor City neighborhood. Come here to savor the best Cuban sandwich in the world, then order a souvenir pitcher and Sangria mix from Columbia to recreate their signature refreshment. It's worth investing in a larger stocking just for this gift. $29.95.
"Bern's: Rare and Well Done" by David and Christina Laxer
This is the ultimate history of Bern's Steak House, the celebrated Tampa Bay restaurant that has delighted diners for the last sixty years. Written with wine enthusiast Chris Sherman, the book showcases the success of this Tampa gem from its modest beginnings to what has evolved into three restaurants, a fashionable hotel and the largest restaurant wine collections in the world. Story Farm Publishing, 255 pages, $49.99. Available at www.Bernsbook.com, The Epicurean and Oxford Exchange.
The Forgotten Coast: Return to Wild Florida DVD
The 70-day, 1,000-mile journey across Florida by Tampa Bay's intrepid conservationist team has gained great acclaim here and abroad. The movie based on that story, "The Forgotten Coast," premiered last month to sell-out crowds over two showings at The Tampa Theatre. The Florida Wildlife Corridor Expedition members hiked, biked and paddled their way across Florida to showcase the state's vast and endangered habitat. $24.95 w/ tax.
Historic Tampa Bay Trolley
Tampa Bay's iconic yellow streetcars are a mix of restored originals from the city's early years and replicas. They delight riders as they run on dedicated tracks between downtown and historic Ybor City, powered by overhead electric lines. Own your own trolley with this superb, glass ornament. $24.95, Visit Tampa Bay store at Channelside.
Tampa Bay Hotel Minaret
Tampa Bay's first resort was built by railroad baron Henry B. Plant in the 1890s. The hotel housed then-Col. Theodore Roosevelt during preparations for the invasion of Cuba during the Spanish-American War in 1898. Today, the hotel's silver spires, which have become an iconic part of the city's skyline, have inspired this glass keepsake. $28. Available at the Henry B. Plant Museum store.
Cigar City Beer Soap
Tampa Bay's famous brewer crafts more than a tasty brew. We think their handmade soaps, by a certified "saponificologist" smell heavenly as well. We like all of them, but we have a taste for the pirate-inspired Invasion Pale Ale bars, in anticipation of our Gasparilla Festival in January.